A Great Sales Team Starts With Hiring the Right People.
Without a solid sales team, even the best product or service doesn't stand a chance. SDS uses a whole-person approach to recruiting and screening people who have the highest probability of being able to sell your products and services to your potential customers.
After analyzing the job carefully, we cast the widest possible net, hitting over 100 job boards with automated postings and layering specialized recruitment efforts to match the position.
Our custom process includes all or some of the following steps
The SDS Online Application is 40% more accurate than a standard resume/application screening. A person's education, training, and work history may all be related to their ability to improve sales. This data is automatically evaluated using learning algorithms that go far beyond a 30-second resume screen.

The SDS BVI is designed specifically to measure how well a person's personality fits the job in question. 30 personality dimensions are carefully mapped to the job, and candidates are compared to the ideal in a systematic and fair fashion. The BVI is the perfect tool for identifying sales personnel who fit your organization's needs.

Work Demonstration Exercises are sometimes used to allow finalists to demonstrate their abilities while doing job-related tasks, such as making a sales presentation. Trained assessors observe and rate performance on key dimensions including problem solving and active listening.

Structured Situational Interviews are used to learn more about a candidate's job-related behavior using questions and scoring keys designed by experts. The ability to educate, persuade, and represent the brand effectively are keys to success for most sales roles.

Baseline composite scoring is used to create a statistical optimal prediction of a person's likelihood of success. Data on new hires is gathered after they have been on the job and linked back to the original predictor data in order to have a learning process that doesn't repeat the same mistakes.

The HireScore Talent Portal is used to track and rank applicants through a real-time process which presents key data in a user-friendly, actionable manner.
Trusted where meeting sales goals is critical.

See Your Applicants Ranked with the HireScore Talent Portal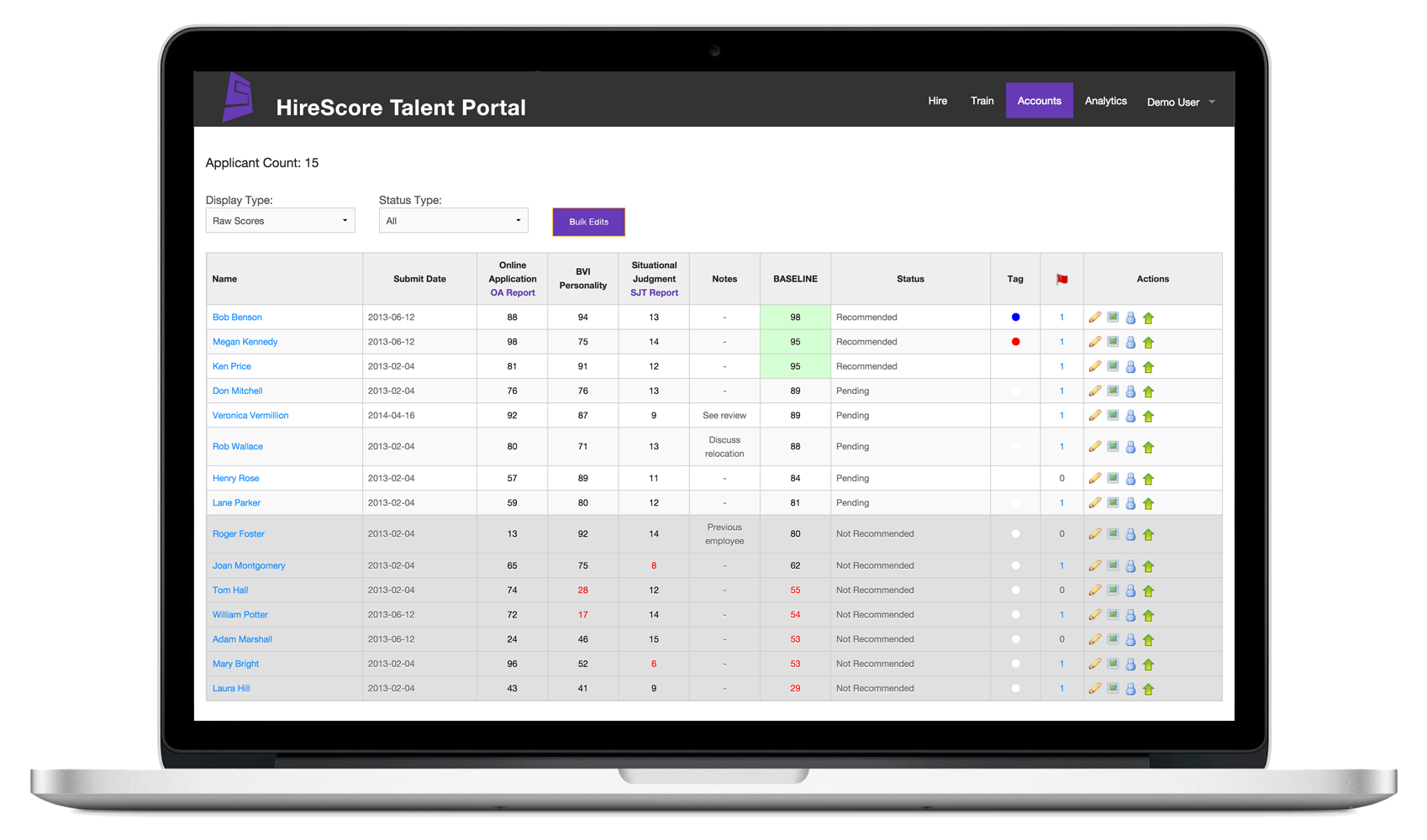 Contact Us
A great sales team starts with hiring the right people.
Set up a free consultation today to learn how you can start hiring employees who have the highest probability of being able to sell your products and services to your customers.
Contact Us